How did you get started?
When I was in Uni we had end of year markets that I always tried to get involved with. It was a really great opportunity to get my work out there in person. I knew that uni would be my last chance to have access to decent printing facilities for awhile, so I went mad screen printing with no idea what I was going to do with all these prints. It wasn't until I graduated that I decided to launch an Etsy store with the stock I had left. I didn't expect it to take off, but here we are! 
How did you tackle the logistics of launching your own store? 
Well I started on Big Cartel, but that platform really requires you to drive your own traffic. People aren't going to find your products if they don't already know that they're there. I struggled with that for a while, but then I took some inspiration from other small business I followed that seemed to be doing well with Etsy. I looked into it and I discovered it was a lot easier to search for specific items on Etsy. From a sellers perspective, it also allowed me to to launch advertising easier. A bonus as well is knowing Etsy encourages buyers to shop small, which is great! 
What pushed you to launch your store, and did you face any obstacles during the launch?
I was actually really hesitant to put myself out there, as I felt there was a sort of prejudice almost against female graphic designers. When I first started to post my work online, I tried to keep myself as far removed from is as possible. I wanted it to be all about the work, and not about me. I kept my face and as much information about myself hidden as I could. But as I started branching out into in-person markets more, I thought- people are going to see my face anyway, so I might as well go for it. Even though I'd started a seperate Instagram the business side of things, I slowly let people get to know before about the face behind the things they were buying. The response was great, and it really boosted my confidence and pushed me to do more with my store and my branding. 
Once I got the confidence, the next biggest challenge was capital. It's hard starting out when you're a student with very little money! I started out predominantly selling Lino prints I made myself, as they weren't expensive to make and I could sit in my front room with the TV on and just crack on with making them. But even then, figuring things out like packaging and shipping can be hard when you're starting out. I figured out a lot of stuff as I went along. Fake it 'til you make it, am I right?
Top tips for working on a budget:
Utilise what you have
My first prints were made with paper I had left over from craft projects and were hand-printed in my front room. You don't need a fancy studio to make great products! 
Do it yourself
The best way to keep costs low is to do as much of it yourself as you can. Instead of splashing out on custom packaging, make your own! My original packaging was just blank envelopes I drew on and stamped myself.
Pre-orders
If you don't have any starting capital, pre-orders are a great way to test the waters. Having people buy the product before it's made lets you know exactly the amount of materials you need so you can budget accordingly. 
Shop around for supplies
With packaging especially, it's easy to go for convenience and order from a big retailer, but with a quick internet search, it's simple to find a cheaper alternative. 
Did you build your brand beforehand, or figured it out as you went along?
Although I started my shop with limited stock, I felt more prepared in terms of branding thanks to one of my uni modules where I had to brand myself as a creative. That helped to build the foundations of my brand, as well as give me the name for my store- which I also use as my studio practice name. I'm really into spooky stuff anyway as part of my general interests, so I just sort of leaned into that with my store and explore the illustration side of things. 
What inspires you when creating a new product? 
I actually love to research things and then form an idea from my research! Having your own business gives you the creative freedom to make products about the things that you like, so whenever I stumble across something interesting, I look into it more and build an idea from that. I love looking into different design formats, but then I also love reading into spooky stories and finding out more about the lore behind it.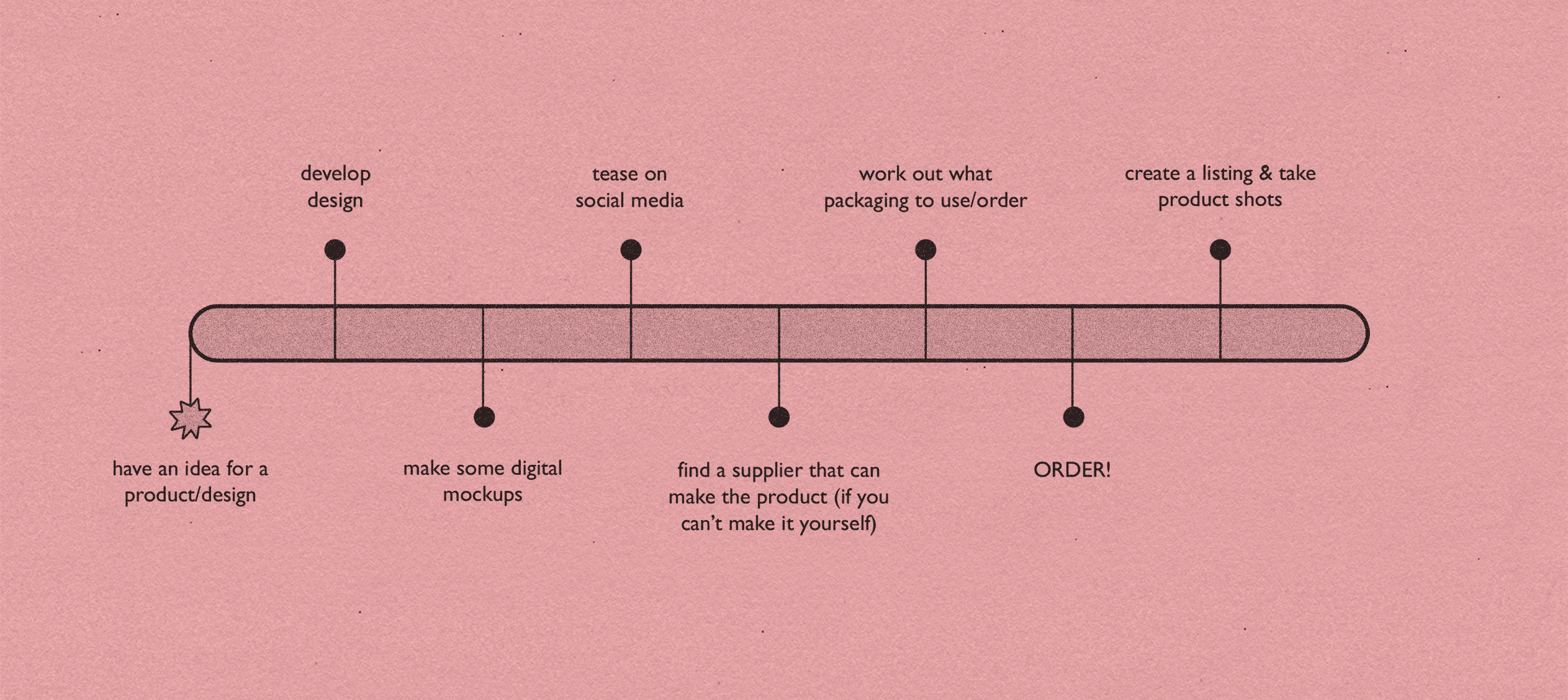 Once you've got a new product, how do you get it launched? 
Whenever I create something I want to turn into a product, I'll do some promotional teasers on instagram while I'm experimenting with printing styles behind the scenes. Providing updates to your audience is a great way to keep yourself motivated, and also builds hype for your new products! If people take an interest, it encourages you to go ahead. Once the hype is there, I'll play around with some digital mock-ups and then move onto production. When the final version is ready, I move onto product design and store photos, then release my new baby into the world. 
What advice do you have for new starters?
Make sure you enjoy it! It can be hard to find a good work / life balance, but it's important to remember that YOU are in control. If you're burned out or life is getting busy, it's okay to put things on hold. Your business can't thrive if you don't take time for yourself.
Find a niche but don't get trapped by it. If you limit your style too much then you don't have any room to grow. You should always be experimenting and finding new exciting ideas.
Talk to people! There are so many independent sellers out there all with their own experiences and insights. Reaching out and talking to these people could give you some really helpful tips and more importantly, you can start to grow your own little community.
Any final words?
In the famous words of Shia LaBeouf: JUST DO IT! I know it can be scary but in the grand scheme of things, what's the worst that can happen? You could end up with your own business that lets you do some amazing things and meet some absolute gems of people along the way.
Becca's top products for indie sellers:
A perfect portable branding tool. Lined for notes or blank for doodles, just add your design to the front and it's all yours.
Product labels, price tags, logos, packaging seals, brand promo, you name it— and then put it on a recycled circular sticker.